---
Join our amazing youth archery community
Archery is a wonderful sport that is all inclusive as it teaches discipline, focus, rules and fosters friendships. In fact that is what is so awesome about the Archery NSW Youth community - you get to make friends from around NSW and further a field and these can be your friends for life!
Archery Disciplines
There are four main disciplines that our archers shoot: Outdoor Target, Field, Clout and Indoor.
Age groups
Joey (11 and Under)
Cub (13 and under)
Intermediate (15 and under)
Cadet (18 and under)
20 and Under
The Joey Class is currently unofficial, however Archery NSW recognises this class at a club level.
Bow types
You get the choice of what bow type you would like to shoot, recurve, compound or longbow. Most youths shoot Recurve or Compound. Some shoot with sights and some shoot Barebow!
Youth Leaders
We have two Youth Liaison Officers, Ella-rose and Jack and two Team Captains, Alyssa and Mitch. All of these archers are in the 20 and under division, worked their way through the ranks. These guys are all accomplished archers and are there for you!
Youth Coordinator
Is Barry Parker who is on the board of Archery NSW, he is an an Event Judge and Club Official and the Field Captain at Coast Archers. He is Dad to Holly and James who are youth archers. Barry is supported by Nic Kyriazis as assistant Team Manager and Coordinator. Nic also went through the ranks as a youth and is an awesome archer himself!
Tournaments
There are a number of tournaments throughout the year and some that are dedicated to Youth Archers such as the Youth Spirit Event (Armidale), the Coast Archers Youth Challenge (NSW Central Coast), Hawkeye Clout (Penrith) and Kidbow (Warringah). These events are there for you to have a really great archery experience, shoot some arrows and meet new friends!
Youth Series
In 2022 we have a Youth Series dedicated to youths with four events. Click here to find out more.

Pizza Nights
Born out of lockdown, to keep our youths together, we started virtual pizza nights. This became a roaring success and we have had some awesome guest speakers, and even some from overseas. Pizza Nights connect youth from all corners of NSW and instead of waiting months to se your friends, we zoom in every 4 weeks or so and get together from the comfort of your own home.
Whether you want to just shoot arrows for fun, or take the sport seriously, we have something for everyone. As a member of Archery NSW, you get the opportunity of travelling to other clubs to shoot, take part in tournaments, youth training days and meeting new people!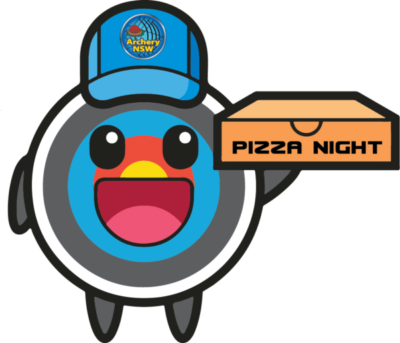 Youth Facebook Group
This is a private group which is closely monitored by four admins. To join, you mast be a financial youth member or a parent of a financial youth member of Archery NSW. You will be required to answer all questions as you apply to join the group.
Youth News
Don't miss out on reading the latest Youth Newsletter packed full of great articles, event round up, helpful tips and also what's coming up for our youth archers.
Download your copy
now or view as a flip book
here
.
For further information please contact:
Barry Parker
Youth Coordinator, Archery NSW
[email protected]