---
Find the current leaderboard here.
The 2022 Youth Series is a brand new initiative to provide the ASNSW Youth Community a standout event of their own and will consist of four rounds.
It is designed to be inclusive and welcoming to youth archers of all levels and ages. After each competition will be a lunch/dinner and social event, so youth archers can hang out, reconnect and make new friends.
Event 1
14 - 16 January – Armidale Archers
Day 1 Development Day, Coaching with Dennis Carson
followed by BBQ Dinner.
Day 2 24T marked field course. Dinner at Bowlo.
Day 3 24T marked field Course. Final day of competition
Just $30 for the weekend! (not including bowlo)
Register here.
Event 2
27 February –Coast Archers, Erina
This has become one of the coolest events on the calendar,
and has something to offer for everyone!
WA 60/900, Short Canberra, Junior Canberra, Mini Canberra
BBQ lunch included for archers!
Event 3

16 July – Troy Adams Oval, PCA, Werrington
Shoot some arrows in the air, hang out with your friends for a big BBQ lunch and have a great day out!
Have you ever tried clout, or are you a seasoned clout archer?
Join us at Penrith City Archers for a great day of clout archery, where a high draw is allowed and you get to shoot arrows into the sky to hit a ground target in the distance.
The emphasis of the day is that it is very much going to be a social event for all our youth archers, with PCA putting on a BBQ lunch for you.
Registration is only $15 and includes lunch.
Click here to download the information document. 
Event 4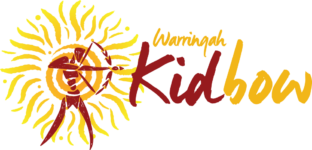 5 November – Warringah Archers
This is an iconic event. 90 Arrows, 20 metres – it is a challenge for the best of the best to get 900 and allows for newcomers to take part in a relaxed environment!
Series Rules
Who can take part:
All archers must be financial members of Archery Australia/Archery NSW for each event
The series is open to all youths and bow divisions:
Joeys - An athlete may compete in the Joey class in tournaments until December 31 of the year of his or her 11th birthday.
Cubs - An athlete may compete in the Cub class in tournaments until December 31 of the year of his or her 13th birthday.
Intermediate - An athlete may compete in the Intermediate class in tournaments until December 31 of the year of his or her 15th birthday.
Cadets - An athlete may compete in the Cadet class in tournaments until December 31 of the year of his or her 17th birthday.
20 and Under - An athlete may compete in the Junior class in tournaments until December 31 of the year of his or her 20th birthday.
Archers from other states may participate in the events, but will not be eligible to win a trophy. Only NSW Youth Archers are eligible to win a trophy.
Scoring
Each event will be a stand alone whereby the actual score will count. Organisers of these events may, or may not issue medals or prizes.
You do not have to attend each event, but you will stand a better chance of a final placing if you do.
For the series, handicapped scores will count based on your 'floating handicap' from Archer's Diary. It will be handicapped scores that will determine placings. For the purpose of the Youth Spirit Event, Handicaps will be based Outdoor Target Archery, not Field because a number of youth archers do not have a separate rating for field archery.
Archers will need to have a base rating to qualify for scoring in the series which is based the best scores from three previous target rounds. Should an archer not have previously competed in at least three target rounds with scores recorded in Archer's Diary, then the series organisers reserve the right to adjust the archer's handicap to keep the competition fair.
The series results will not be per age class, but the overall attendance. The handicap system allows for an archer with a lower rating to compete against an archer with a higher rating and will even the scores up.
For the Youth Spirit Event, it will be the combined handicap scores from the two days that will determine the placings.
Points for each event will be awarded to the top 20 positions, with 20 points given to 1st place:
1st 20 points
2nd 19 points
3rd 18 points
4th 17 points
5th 16 points
6th 15 points
–––––––
19th 2 points
20th 1 point
21st 0 points
Over the four events, the points will accumulate as they are added together. So say an archer places 3rd in event 1, 6th in event 2, 1st in event 3 and 19th in event 4, they will accumulate 55 points overall.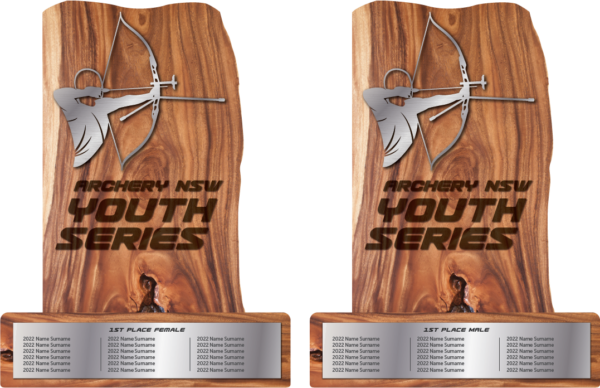 There will be two perpetual trophies awarded at the end of the series: 1st Place Compound and 1st place Recurve.
Take home trophies will be given to the top three places in Compound and Recurve. Trophies will be awarded at the 2023 Archery NSW Presentation Night, or at the first available opportunity.
Any questions about the Series Rules of for further information please contact Barry Parker, Youth Coordinator via email: [email protected]