Archery Australia has three Plaquette levels, Gold, Silver and Bronze in recognition of Service and Contribution to the sport at National, State (RGB) and Club level. Criteria /Conditions Forms can be located here.
The Gold Plaquette Award is awarded in recognition for outstanding achievement in competitions at National level.
Nicole Bartlett, 1995
Jackson Fear, 1999
Simon Fairweather, 2000
Terry Reilly, 2000
The Silver Plaquette Award is awarded in recognition of distinguished service or contribution at State (RGB) level.
Heather Eichberger, 1992
Tony Pitt-Lancaster, 1993
Elizabeth Jennison, 2001
Steve Jennison, 2001
James Larven, 2001
Steve Salmon, 2021
The Bronze Plaquette Award is awarded in recognition of outstanding service or achievement at Club level.
 Paul Gavin, 1992
Rex Jolly, 1992
James Larven, 1994
Ross Herron, 1995
Graham Wilson, 1996
Bruce Dillon, 2001
Peter Smith, 2009
Steve Salmon, 2021
Steve Salmon - Congratulations!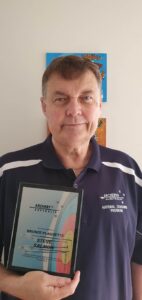 Join us in congratulating Steve Salmon, for being awarded an Archery Australia Bronze Plaquette for his services to archery, which is very well deserved.
Steve has been a member of Warringah Archers since 1st July 2003 to date, and has held various roles in the club such as Executive Member-Social Medial/IT 2006/2007 & Vice President 2008 until 2014. He is a Regional Coach and became a National Judge in September, 2007, where some of our members may have had the benefit of his wisdom in teaching us the do's and don'ts when you go to tournaments.
Steve also took on Roles within Archery NSW such as Vice President/Publicity in 2010 filling a Casual vacancy for 1 year, then 2011 / 2012 main area of focus was the establishment of State website. Became the Youth Coordinator of Archery NSW 2013 / 2014, and also was Assistant Manager for the NSW Youth Team 2012 & Manager for the NSW Youth Team 2013 & 2014.
Steve currently lives in Old Barr, but is still connected to the club, one of these days soon he may come down and pay us a visit, but he is still active within the PCYC Community at Taree.